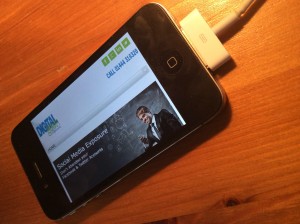 In line with our policy of best advice we would like to highlight a worrying trend.
By 2015 over 2 billion people will access the internet from iPads and smartphones with small screens that are harder to show content on or navigate. Yet your "content" must be equally visible and, actually, easier to find given the busy mindset of the mobile user.
This has enormous implications on not only business sites and marketing but also how web companies will have to design.
The good ones have already adjusted but, unfortunately, "special mobile website" companies have also sprung up, selling services that we believe that you really don't want at all.
A separate mobile version of your web site, especially if hosted on the developers own domain, can easily have crippling implications on your organic search, your workflow with old content left everywhere, your control and your brand.
Yes web pages must be laid out differently for tablet/smartphone but a web site should automatically adjust the layout according to device. Yes they are easily that clever.
If you are on a desktop or laptop a good design reacts to your browser window before maxing out at an upper width, or if you are on an iPad/iPhone (horizontally or vertically held) it reacts to the screen size, reorganising the page elements in real time to fit.
Everyone sees the same URL and the same content and the result on your business is
Your statistics make sense, distinguishing between devices and OS versions anyway.
You get more free traffic.
Publishing is more controlled
Your commercial web project is rationalised
It's cheaper
It's infinitely more elegant
You are in control and not later potentially held to ransom
We appreciate you may not want to do this now, or in the future but to find out more about reactive web design please call Digital Growth on 01444 316320 or email us at info@digital-growth.co.uk