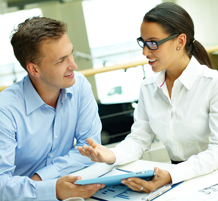 In this fast paced world your online presence should meet the expectations of web users. And your competitor's web sites may already use the latest designs with the latest mechanisms delivering their message to your customers.
A great web design takes your brand and online but also reflects your essence throughout it's design and usability giving you a site that carries your message and operates as a considerably powerful business tool.
You might need a simple website, an e-commerce solution or an integrated online presence including your website and a social media footprint, such as Facebook, Twitter, Linkedin and other social media channels. Regardless Digital Growth have the right technology and in line with our fairness and best advice policies we will advise the least expensive option for your business requirements.
Expertly designed, your website will be easy for new users to use while delivering your goals and values in the clearest possible way, with each element of the site and it's management systems working in concert. Your web site will of course be easy to optimise and maintain.
Contact us today to discuss your plans and see how we can get your web business up and running better and for a fraction of the cost of other developers and designers.
Digital Growth have extensive experience in managing the development lifecycle of web sites from small business sites to large corporate web presences and our concern is your commercial success. This is because we ONLY want successful projects in our roster.
Before you enter the potentially expensive development stage you need to know you have the right team on board who respect for the importance of the right foundations and keeping the project focused on these goals.
In development terms we offer a menu of technologies, all of which suit a particular type of requirement, budget and business case.
Many web sites require little more that online publishing, collection of email addresses and underlying email marketing. Some site however require special developments such as calling in exchange rates in real time or sending order information to a server.
As you will have guessed, all our web sites are build to the highest standards for fair optimisation and designed within the stipulations of WAI, the disability discrimination act and data protection rules. Our projects start with and expert stakeholder consultation process followed by the managed development through to testing and deployment, specifically if replacing an existing site.
Our primary concern is the long term health of your web operation we ONLY advise clients to invest where necessary or advisable and explain the reasoning behind all suggestions. We would rather you build the site you need at and invest any additional funds into promotion.  While this may seem unusual it is in line with our 'Best Advice' and 'Transparency' policies.
Contact us today on the form below a free consultation on your requirements and to find out a little more about the kind of technologies you may require and how you can save money.
We believe that your online presence should enable your customers to find you, and for you to be able to communicate with them.
Despite these high requirements most sites today can be designed very cheaply and still reasonably within WordPress. Often there simply isn't a business case for a greater investment.
Using the now established (free) WordPress content management platform, Digital Growth design a formidable online presence in WordPress that ensures you are set you apart from your competition for exceptionally reasonable (low) cost.
You might need a simple website, an e-commerce solution or an integrated online presence including your website and a social media footprint, such as Facebook, Twitter, Linkedin and other social media channels. All possible very simply within WordPress.
Your WordPress website will be expertly designed and developed, easy to navigate and will deliver a clear message to your customers, with each communication channel seamlessly working with and complimenting each other. Not only this but within the WordPress environment it is simple to perform and manage the on-site optimisation using a narrate of plug-ins, helping you to ensure you reach the RIGHT customers.
Whatever your development requirements are there is a very good chance WordPress will suffice. Make contact with us today to have a chat on how we can help.